It's not an illusion. It's your own eyelashes -- only better !

Latisse (brimatoprost 0.03%) is the first and only FDA prescription treatment approved to stimulate the growth of longer and darker lashes

Latisse makes lash growth possible because if it's active ingredient --brimatoprost. Although the exact mechanism of action is not fully known, research suggests that Latisse increases the hair growth phase.

Latisse is easy to use ! It is once a day application to the base of the upper eyelashes with a small brush.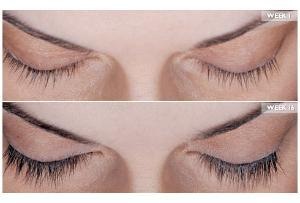 Results were noted by 4 weeks and complete at week 16.

While Latisse is a new treatment for eyelash growth, it was developed through years of research by Allergan, a leader in the ocular pharmaceutical world with more than 60 years of experience in eye care products.

In addition we carry Zoria, a wonderful product to darken and fatten lashes. Can be used in conjunction with Latisse

To learn more about Latisse click here

http://www.latisse.com/Testimonials.aspx